Profile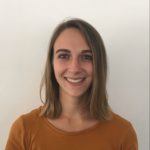 Emma Daniels
My CV
Education:

I did my GCSEs and A-Levels at Heanor Gate Science College, my local school. I then did a Chemistry degree at the University of Nottingham, and now I'm studying for a PhD at the University of Bath.

Qualifications:

I have GCSEs in Maths, English, Chemistry, Biology, Physics, Religious Education, and a BTEC in Music and Drama.
At A-Level, I did Chemistry, Physics, Biology, Maths and Music.
I have a Masters degree in Chemistry, and a research masters (MRes) in Sustainable Chemical Technologies.

Work History:

My first real job was in a fish and chip shop. It was great because I got to eat lots of chips, but it was hard work, especially in summer when it got super busy!

Employer:

Centre for Sustainable and Circular Technologies (CSCT), University of Bah
About Me:

I am a PhD researcher from the University of Bath. I am also a dancer, dog-lover and quiz fan!

Read more

I live in Bath but I grew up in Nottingham, the home of Robin Hood! I love dogs, my Mum and Dad both have two dogs at home, which I miss a lot when I'm in Bath. I love to dance and have done ballet since I was 11. I'm also pretty good at quizzes, especially if they have questions about FRIENDS or Harry Potter! My pronouns are she/her.

My Work:

I make plastic (polymers) from sugars and turn them into materials that can be used in healthcare devices or in batteries!

Read more

I am doing a PhD at the 'Centre for Sustainable and Circular Technologies' at the University of Bath. I make plastics from sugars and carbon dioxide as possible replacements for the current plastics we use, which tend to be made from fossil fuels. The main aim of my research, is to find ways to use these new plastics in healthcare devices. This could help detected illnesses or diseases quickly without relying on fossil fuels. We can also make conductive materials, which could be used in batteries to make them safer and more sustainable. These plastics are also biodegradable, so wouldn't contribute to plastic waste!

My Typical Day:

Most days I work in the lab. I get to work around 9.30 am, and put on some experiments before having lunch with my friends around 12.00. In the afternoon, I might do some analysis, or write up some results. I also do computational chemistry, which involves running simulations on a computer! I finish by day around 6.oo pm.

Read more

I spend most of my day in the lab. A normal day in the lab would include doing reactions, doing analysis to work out what I've made, and sharing ideas with my lab friends. There are lots of analysis techniques I use. Thermal analysis tells us how our materials behave when they are heated up. Nuclear magnetic resonance (NMR) and infra-red (IR) spectroscopy helps us find out what atoms are inside our material. I also run simulations to find out more about the things I would normally be making in the lab. This involves making a computer model of the plastics I make, and looking at how they move, interact with each other, and what shapes they take.

During the day, I might also have meeting with my supervisors or with other member of my lab group. In these meetings we might discuss problems we have with our research, or just chat about life!

Sometimes people visit the university to give talks about their research in events called seminars or conferences. These are always a nice break to the day, and you get to meet new people and learn about cool new science. I've just got back from one of these conferences in Athens, Greece. I can a talk about my research there – it was very nerve wracking!
My Interview

How would you describe yourself in 3 words?

Organised, funny and adventurous

What did you want to be after you left school?

When I was younger I wanted to be an actress, but when I got older I realised sceince was the job for me!

Were you ever in trouble at school?

Often for talking too much!

Who is your favourite singer or band?

My all time favorite artist is David Bowie, but my favourite current band would have to be Crystal Fighters or Foals.

What's your favourite food?

Crisps, especially cheese and onion ones!

If you had 3 wishes for yourself what would they be? - be honest!

1. Get a puppy 2. Be able to do the splits 3. To see the Northern lights

Tell us a joke.

I can't, all the good ones Argon...
---
---
---
---